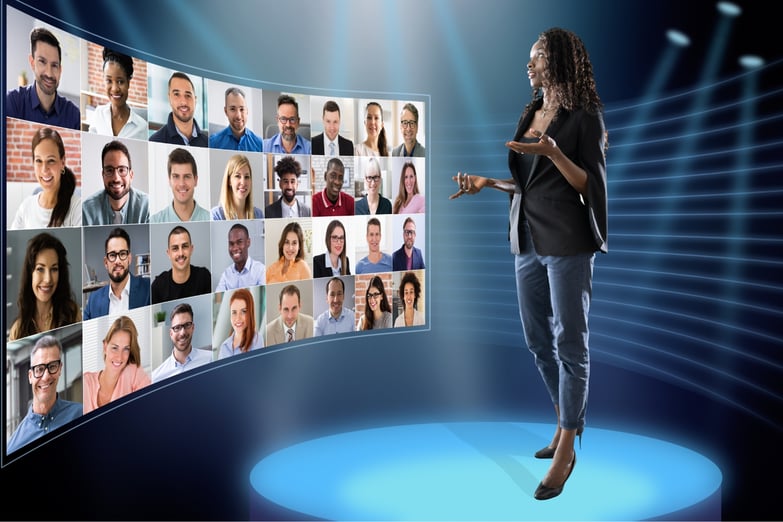 6 Tips to Guarantee a Successful Virtual Event!
Virtual Events are an excellent way for groups to communicate their message in engaging and exciting ways. Even before the COVID-19 pandemic, virtual events were gaining popularity as companies and organizations realized that virtual events were a great way to bring people together. A few reasons why you should be scheduling Virtual Events in your event calendar include:
Virtual Events are Inclusive

Virtual Events are Fiscally Responsible

Virtual Events are Environmentally Responsible
Event planners may be concerned with their ability to communicate their message to attendees, but this problem can be quickly resolved by including an open broadcast software like OBS Studio(OBS.) OBS combines live webcam, video, microphone input audio, and more to create custom scenes. OBS then encodes the video and allows you to broadcast the video over platforms such as YouTube, Facebook, and Microsoft Teams.
Why OBS for your virtual event?
OBS allows you to build engaging virtual presentations by incorporating advanced production techniques such as multiple speakers, panels, visually appealing content, and dynamic videos.
OBS will allow you to present a studio-level broadcast that will keep your attendees engaged.
Some event planners are hesitant to host events with OBS, despite the many benefits that advanced production can bring. New technologies bring new challenges. How reliable is OBS? What happens to the event if OBS or Microsoft Teams has an issue that disrupts the feed? Luckily, these concerns can be quickly addressed by an experienced virtual event expert.
All events have risks in person or virtual, but you can put on an incredible virtual event with the right backup plan. Opsgility utilizes OBS for advanced production, and we recommend the below backup procedures to ensure a successful event.
1. Give yourself time.
You will need to develop programming and content, coordinate schedules, recruit speakers, and conduct technical and dress rehearsals.
A good practice is to send out multiple reminders to ensure that everyone is supposed to be when they are supposed to be there.
2. Produce a Run of Show.
The more complex the virtual event, the more critical it is to have a detailed plan for the day of the event. A Run of Show form should include all the detailed information for the producers and presenters (names, e-mail addresses, cell phone numbers) and a minute-by-minute schedule for speaker and content transitions. Having the plan written out will help the production stay on schedule.
3. Build Backup Links.
Occasionally the link being used to stream the event breaks. A good practice is to have a backup link(s) established.
Invite your producers to the backup link so that it appears on their calendar. I do not recommend inviting the presenters to the backup link as it can confuse the day of the event. If the backup link must be used, the Run of Show should be utilized to add the presenter names and e-mail addresses to the backup link invitation and then sent it so they may join the new session.
4. Build Backup Systems.
Whether using desktops, laptops, or virtual computers to run your event, it is good practice to prepare the presentation on a backup system fully. On the day of the event, have both the primary system running and the backup system. Then, the backup plan will be prepped and ready to deliver the presentation in the last system crashes.
5. Build Backup Admin Accounts.
Admin accounts should build the presentation, schedule calendar appointments, and produce the events, but admin accounts have been known to crash. A best practice is to have multiple admin accounts active and included in all appointments and systems. A backup account can be quickly activated if an admin account crashes to keep the presentation on track.
6. Be Show Ready 72 Hours Before the Event.
Virtual events are stressful without tracking content or confirming speakers in the last hours before the event starts. As mentioned above, it is essential to give yourself time to prepare and execute the presentation. Do not be afraid to set and hold hard deadlines. They are finalizing content, templates, and speakers at least fourteen days before the event will give you time to edit the presentation. Scheduling and conducting technical and dress rehearsals at least seven days before the event will allow time to adjust speaker lighting levels or fix a broken microphone. Speakers must be in the exact location that they will use the day of the event, and they should use the same computer, camera, and microphone. This will help minimize any equipment challenges on the event day. Be sure to set a hard deadline for when content cannot be changed. This will give the technical team time to fine-tune the presentation and conduct quality control checks, ensuring the event is ready to wow the attendees.
Virtual events, and hybrid events, are here to stay. The virtual event can be a stressful and hectic presentation to pull together. Still, with time to prepare and a good backup plan, the virtual event will be an exciting way to communicate and engage your attendees.